Even by the most conservative geneticists' standards, we have anywhere from 80% to 97% control over the expression of our genes. We have dormant genes for all sorts of things, both good and bad. A person is not just overweight because their mother and father were overweight. One is not destined to have a heart attack just because half the people in their family have had one; nor by the same token, diabetes or cancer.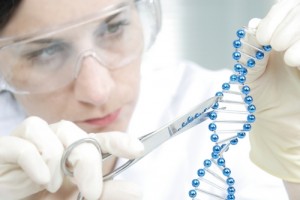 Genetics can have some influence, but genes are turned on and off by regulatory genes that are mainly controlled by nutrients. A gene will not express itself unless the internal environment is conducive to its expression. So we have control over our genetic expression by the foods we choose to eat, the emotions we habitually experience, and the thoughts we consciously allow to govern our minds. We choose our lifestyle and that, in turn, impacts the expression of our genes.

We can also deliberately address the toxicity of our body's internal environment. We all inherit our genetic code from our parents. While many physical features are genetically predetermined, they do little to define our health. The bad habits which we inherit impact us far more than we are willing to admit.
Learn to be the master of your own genetic destiny with the decisions you make each moment.
UPGRADING YOUR BODY
Many animals shed their fur (or molt) by completely losing their external skeleton to live a new life with a refreshed set of cells. My young niece was recently excited to share her science class project. She carried in a large glass aquarium, with multiple cocoons hanging inside. I was excited about her joy in biology and the continuous change that occurs in nature. She shared with me that in two weeks, their transformation into beautiful monarch butterflies would be complete.
We humans are the same. The healing body you have today is not the same one you had seven years ago. All cells replicate, die and are either removed from the body or dismantled into spare parts. For every cell that replicates, a newer one is born. This new cell has the potential to be stronger and healthier than its older twin, which will one day undergo apoptosis, an intrinsically timed cell death. In another few years, every cell, tissue and organ will belong to a completely new version of you.
Every cell in our body along with its components is totally replaced within nine months. Some cells have a faster turnover rate than others, but ALL cells are rejuvenated and replaced, even in our organs and endocrine glands. In the developing field of epigenetics, the biology of belief and behavior, we are learning more about how we live through our cells and can reach the full expression of our genetic potential. This becomes especially true when we live as our ancestors did in the hunter-gatherer days.