The anaejaculation
The man with anaejaculation, during the sexual intercourse with the partner, can maintain in erection for hours, which can induce multiple orgasms to the partner and super-satisfaction. The reaction of the partner toward an anaejac-ulator man is various: some enjoy this kind of man that induces them repeated orgasms until "status orgasmus", even after the installation of this anaejaculation; sometimes, the partner that reached the maximum of satiety (taking advantage of the situation) can interrupt the sexual act.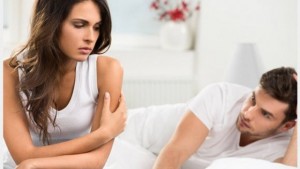 It is known that a sexual act prolonged excessively produces to the partner painful sensations and then she gives up. There are also women which, frustrated by the perception of the spermatic jet of the anaejaculator, cannot reach orgasm. Plus, the anaejaculation into the vagina is a factor responsible for the sterility of the couple. Certain men with anaejaculation, not having even an orgasm, get in time to get bored, to lose their libido and to get even to secondary erectile impotence.
The etiology of the anaejaculation can be of organic nature (hyperglycemia, pithy lesions, urethral lesions that create obstacle, genital tuberculosis, prostate cancer that destroys the ejaculatory canals). It can appear as a complication post-surgical: vesical cervix resections, prostate adenomectomy on a high path; in these cases, we are talking about a retrograde ejaculation in the urinary bladder and not about a normal ejaculation.
The iatrogenic anaejaculation (medicinal) can appear after treatments, especially with benzodiazepines, antidopaminergics (chlorpromazine, haloperidol, tricycle antidepressants, B-blockers, alfa-blockers). The anaejaculation can be of psychogenic cause. In this case, the subjects are hyper-reactive, anxious or depressive; most of them present an asteno-vegetative neurosis. The treatment of the anaejaculation depends on the etiopathogenic form.
In the one of organic origin, it must be made urological explorations, neurological, endocrine, and metabolic and, once discovered the etiological factor, the appropriate treatment when it is possible. In psychogenic origin anaejaculation have been tried several medicines but few have a change of success. The antidepressants can be useful at person sick with depressive neurosis; sometimes, the sympathicotonics pay results, but the most efficient is dextroamphetamine, which can induce intra-vaginal ejaculations during coitus or through masturbation.
The amphetamines act by favoring the prevalent alpha-genetic tonus. It is taken into consideration also the prostigmine which because of the para-sympaticomimetic action shall favor the expulsion of the ejaculation.
Subscribe to

our

Facebook https://www.facebook.com/pages/Health-and-Care-Info/963724666987760, where

the latest news

and more!

)